See the world's best oyster shuckers, bartenders and mixologists come to Whistler to take part in one awesome competition!
That's what's happening on September 16 at Whistler Golf Club, when the Annual Bearfoot Bistro World Oyster Invitational and Bloody Caesar Battle takes place.
Again this year's competition is held in aid of The Whistler Blackcomb Foundation, which gives financial support to registered non-profit organizations providing benefit to residents throughout the Sea to Sky Corridor.
What is oyster shucking?
Oyster shucking is the art of opening the shell and freeing the oyster for eating. Competitors use a shucking knife to pry open the shell before cutting the muscle from the shell and placing on a tray.
It can sometimes be pretty tricky to open the shells, especially for those of us who aren't professionals! If you've ever tried to shuck your own oyster you know that it is a tough task to do at speed.
For a full walkthrough you can watch this video promotion from a previous year's competition, featuring André from Bearfoot Bistro:
The competition
The competition sees the world's best oyster shuckers compete to see who is the fastest and best shucker.
Each heat sees four competitors work their way through 30 oysters for the top prize of $5,000. Second place will receive $1,000 while third gets $500.
The competition is great fun to watch, and after all the action someone has to eat the oysters, which makes attending even better!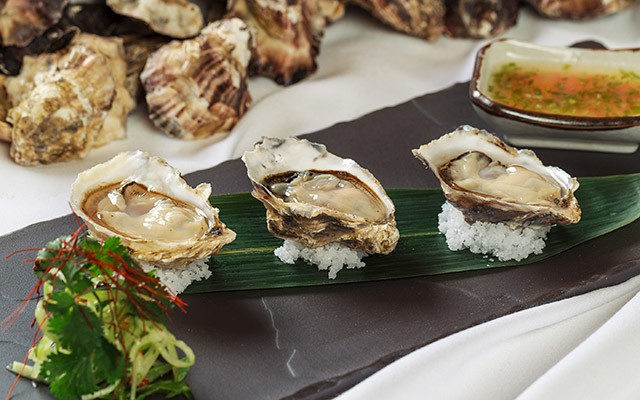 It's not just about oysters
Aside from the oysters there will also be a caesar competition between some of the world's best bartenders and mixologists.
For the uninitiated a caesar is a drink invented in Canada consisting of vodka, Clamato, hot sauce and Worcestershire sauce served in a large glass with ice, celery stick and a celery-salted rim.
This is the base of a caesar but as those familiar with the drink know, it can be accompanied by many additional garnishes such as spicy beans, pepperoni and even full meals!
The top prize for the caesar competition is also $5,000.
Tickets for the event can be found HERE.