The annual event celebrates everything written and provides a chance to meet authors, hear guest speakers and attend workshops on writing and publishing. It is also the perfect opportunity to meet like-minded people and discuss writing.
There are a number of events taking place over the four days including a comedy event, writing workshops, readings and live music.
Find out more about what's on in our guide to the festival:
Comedy Quickies
The first night of the festival features Comedy Quickies, a celebration of funny shorts that sees writers presenting their work to a panel of judges.
10 finalists of comedy writing will compete for a cash prize and two awards – Best Comedy Writing and People's Choice.
The special guest for the evening will be comedian and author Charlie Demers from CBC's The Debaters.
Chef's Reception
On Friday the Chef's Reception, or Cooks with Books, features a roster of award winning food authors and chefs, talking about the best wine pairings.
Authors include Emily Wight (Well Fed, Flat Broke), Susan Musgrave (A Taste of Haida Gwaii) and James Nevison (Had A Glass 2015).
The audience will be treated with a selection of appetizers to try, along with the chance to meet and talk to the authors after the reading.
Workshops
Throughout the festival there will be various writing workshops held aimed at improving you as a writer and increasing chances of being published.
These workshops are hosted by successful authors, writers and publishers who are happy to chat and answer questions on their relevant topics.
One of the standout workshops is the publishing and pitching session which will help authors develop their pitching skills throughout the morning. Following this, the afternoon will put them to the test against publishers and agents.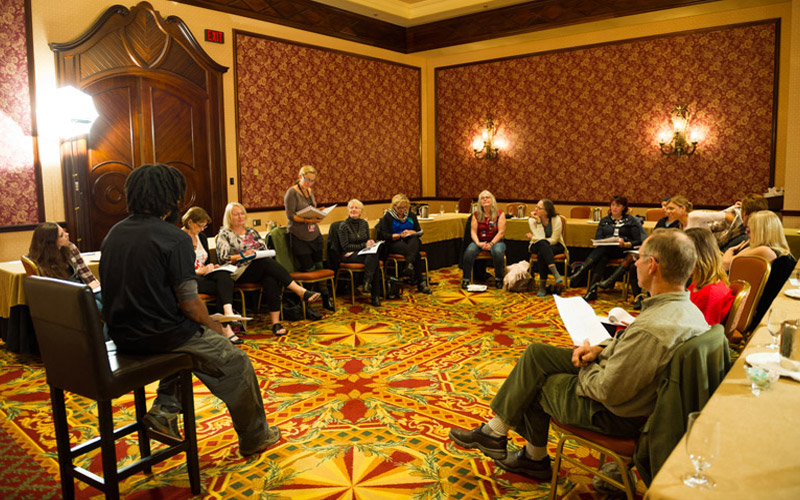 Reading Events
In addition to the Comedy Quickies and Chef's Reception, there are a number of other reading events being held including the always popular Literary Cabaret.
The Literary Cabaret offers a wonderful selection of live music performances along with readings from some of Canada's favourite authors. Authors for this event include Caroline Adderson, Brian Brett, Jillian Christmas, Katherine Fawcett and Wayne Grady.
Another reading event is the Crime Writer's lunch, moderated by Tourism Whistler's own Feet Banks. Writers will go into detail about the development of their stories and the finer details of crime writing.
You can find more information on the festival and a full schedule of events on the official Whistler Writers Festival site.